SITE SPECIFIC INSTALATIONS
28/5 — 30/9
GARDEN (VLADIMÍR SITTA)
BLOOM (ALISA ANDRASEK A JOSE SANCHEZ)
MOTHER EATRH No. II (KURT GEBAUER)
ROTUNDA FOR OPAVA (ARCHWERK)
FRIEDRICH SCHILLER RING (LUBOMÍR RYCHTAR)
SWING-TREE (naOKRAJI)
MEMORY (HEPP, ŽÁKOVSKÁ)
PLACE FOR A STATUE (MATOUŠ LIPUS)
BLACK STARS (DAGMAR ŠUBRTOVÁ)
10/6 — 19/6
REVITALISATION OF THE RIVER SHORE (H3T ARCHITEKTI)
10/6 — 30/9
SUN, WATER, AIR… (ATELIÉR 38)
KRYSÍN (naOKRAJI)
INNER RHYTHM (JAN KALÁB)
LOST PLACES (ATELIÉR 38)
DRYING OF THE LINEN (DAGMAR ŠUBRTOVÁ)
CAPRICIOUS SUMMER (ARCHANTI)
MEADOW (STACHOVÁ, HEPP)
---
LECTURES, DEBATES, DISCUSSIONS:
28/5
Ptačí vrch a sady Svobody
15:00 – 24:00
24:00   afterparty in Art Club
PTAČÁK
Ceremonial Opening of the Festival LANDSCAPE OPAVA 2016
Concerts: DVA, BRATŘI ORFFOVÉ, MUNROE, THE PROSTITUTES, NVMERI, PSYCHONAUT
---
10/6 — 19/6
Na Nivě a Hozovo nábřeží (embankment locality)
every day from 14:00 to 22:00
EMBANKMENT
areál Náplavky a Horní náměstí /"koule" (tradiční projekt opět přesune umění z galerií do veřejného městského prostoru)
10/6 — 19/6
Oživení náplavky (Ateliér H3T architekti)
Sochařské sympozium Galerie Gottfrei a Landscape festivalu
10/6
17:00   SECONDHAND LANDSCAPES – opening of the exhibition (Karnola factory)
17:45   OPAVA IN THE STREAM OF TIME – opening of the exhibition
18:00 — 23:30   concerts: KOFE-IN, POSLEDNÍ VÝSTŘEL, NEKONEČNÍK, ELEMENT, ILLEGALS
11/6
15:00   Drumming workshop with a group Jarabe (Drums can take it with you!)
18:00   Opening of site specific Jana Kaláb – on the wall of an apartment building at ul. Vodní
19:00   Discussion on the topic of Street Art in public space – Jan Kaláb and Lukas Zero Pavlicek
20:00   DJ STRAY SIDE (hip hop)
12/6
"Nedělnění" — music, beer, river
13/6
18:00   Showtime sculptors symposium on the embankment – the author's presentation sculptors (each artist in 10 minutes present their work and vision for the embankment)
14/6
18:00   Future of the Opava river shores – discussion with representatives of Opava, Odra River Basin, architects, urban planners with the public
15/6
19:00   Poetry at the river – readings by authors (stepping authors from the circle of publishers Perplex (Ivana Kašpárková, Jan Němček, Miroslav Black and Dan Jedlicka)
16/6
21:30   Everything is different! True History of Opava? (Conspiracy lecture sociologist, educator and cultural factors George Siostrzonek)
17/6
14:00   The river is the only witness of our lives – teaching students focused on land art.
19:00   Guys – frontmens desert their favorite hits for listening and dancing – Bart (Upstream, Baby Secondhand) and Jan Kunze (Kofe-in Munroe)
18/6
17:00   Sculpture Symposium – Guided tour with authors
19:00   RIVERSOUND (DJ´s house / bass / garage)
22:00   Afterparty in Art Club
More about Embankment festival
---
23/6
Alžbětina zahrada u Matičního domu
13:00
COMMUNITY GARDENING
Gardening for the public, exhibition, gourmet afternoon akrojóga and others.
---
24/6 — 25/6
Hradec nad Moravicí
HRADECKÝ SLUNOVRAT
The festival will begin reinstalling the statue of Kurt Gebauer's dream of flying.
---
27/8
Městské koupaliště Opava
9:00 – 2:00
KOUPÁK
Music festival in the aquapark. The program includes lectures, juggling workshop for children and much more.
Concerts: KLÁRA VYTISKOVÁ, SABINA KŘOVÁKOVÁ, PUDING PANI ELVISOVEJ, KILLIEKRANKIE, DJ's and more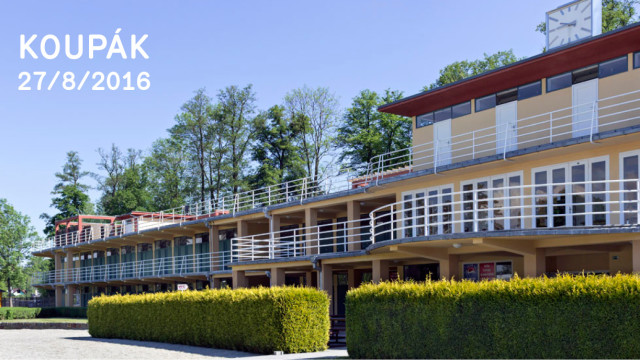 ---
LECTURES, DEBATES, DISCUSSIONS:
1/6
18:00   ARCHANTI: Bored in Brno, hokna v Opavě, Slezanka
8/6
18:00   Beautification Committee Za krásnou Ostravu, Slezanka
14/6
18:00   Future of the Opava river shores, embankment locality (Na Nivě, Hozovo nábřeží)
22/6
18:00   Bludný kámen & Za Opavu: (Sebe)projekce, Slezanka
---